Cavalier King Charles Spaniels have been bred at Pennal since 1992. They are the biggest of the Toy Group and make adorable pets because of their affectionate and devoted nature.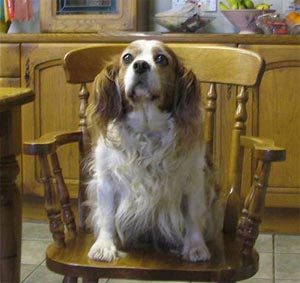 Sian has the four colours at Pennal –
Blenheim (rich chestnut with pearly white background)
Tri (black, white & tan)
Black & Tan
Ruby (solid colour of deepest rich red)
The first Cavalier was Horeb Princess who was known as "Tibbs". She was a birthday gift from Dai. Since then Sian has gone on to develop a respected and responsibly managed Cavalier King Charles Spaniel stud.
All puppies at Blaenpennal Cavaliers are born in the house so that they are given the best possible care and attention. During the first 3-4 weeks they are fed by "mum" and solid food is introduced gradually from then on. When they leave Pennal at 8-9 weeks old they are well socialised little puppies and are full of character.
Finding good, kind, loving homes is of the utmost importance to us as all our cavaliers are our pets and are much loved by us and all who know them.
Resident Dogs
Ben (Ciscadee Beguile)  a black and tan Cavalier King Charles Spaniel has a wonderful temperment and is kind to his ladies! He is always out and about on the yard and always first of our Cavaliers to welcome visitors.
Waldo (Shargill Criminal Law) is a very smart blenheim coloured dog, we are very proud of the litters he has sired so far.
Jamie (Crisagem Neo Atesh), the latest dog at Blaenpennal is a fine example of a tri colour Cavalier King Charles. We look forward to seeing his first litters.
Some of the Mums
Puppies are available throughout the year.  All the puppies at Blaenpennal Cavaliers can be Kennel Club Registered, are vet checked, have pedigree papers and pet plan insurance.
For more details of litters please email Sian or tel: 01974 251242 /  Mob: 07977 761383
All the dogs, mums and pups live at Esgairsaeson, just outside a small village called Blaenpennal, which is situated on the A485 between Aberystwyth. Their home is in the heart of rural countryside although only 10 miles away from Cardigan Bay.
Please also visit our Blaenpennal Cavaliers website at
www.blaenpennalcavaliers.co.uk