Colts
Pennal Apollo b.2012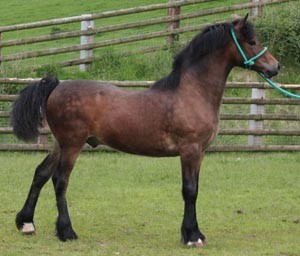 With both sire and dam being by the 2012 Royal Welsh Male Champion and reserve Prince of Wales exhibit, Gwenllan Brynmor, it is no surprise that he so closely resembles his grandsire.
Pennal Apollo
Pennal Welsh Guard
Gwenllan Brynmor
Pennal Lady's Image
Pennal Super Model
Gwenllan Brynmor
Pennal New Model
---
There are also two Section D stallions at the Pennal Stud for the 2014 season
Pennal Brynmor (AVAILABLE BY A.I ONLY)
Pennal Mab Y Brenin
Tireve Welsh Flyer (FULLY BOOKED)
Pennal Brynmor b.2006
Pennal Brynmor is available by A.I only for 2014
Brynmor was leased to Cascob Stud in 2008 before travelling to Essex to spend the winter with Georgie Mitchell and Clare Granger of the Dycott Stud.  Dai is extremely grateful to George and Clare for the brilliant job they did of showing him during 2009 .

Pennal Brynmor
Gwenllan Brynmor
Gwenllan Sam
Gwenllan Blodwen
Pennal Lively Maid
Pennal Calon Lan
Rhystyd Fashion
---
Tireve Welsh Flyer b.1991

Tireve Welsh Flyer has returned from his overseas stud duties and has spent the early part of 2012 at the Gobell Stud, but will be returning to Pennal shortly.
He was fully booked for 2012. His tremendous bloodlines coupled with a superb tail set, movement and temperament made Tireve Welsh Flyer an excellent choice for the 2008 season which resulted in three fillies for the three mares he covered at Pennal.
 Tireve Welsh Flyer
Parc Welsh Flyer
Pentre Eddwin Comet
Parc Lady
Tireve Cardi Princess
Redwood Cardi Comet
Pantanamlwg Sunshine
---
Previously Leased Stallions
We would like to take this opportunity to thank the following for leasing their stallions to us in the last few years:
The Ducatelle Family for Duc d'Huttegem Welsh Flyer
Peter Grey for Thorneyside Brenin & Thorneyside The Gladiator
Steve Everitt & Family for Oxspring Prince
Martin & Alison Waters for Solloway Hooch
Chris George & Family for Gwenllan Brynmor
Many of these three stallions' progeny can be viewed on the youngstock  page.